Nigerian singer, Adekunle Gold has just the list of several Nigerian celebrities that have taken to social media to mourn the death of a 22-year-old 100Level student of Microbiology at the University of Benin, Edo State, Vera Uwaila Omozuwa; after she was assaulted, raped and brutally killed inside a church.
Adekunle Gold expressed sorrow over the incident in a short note that he posted on Instagram. He said;
"My heart bleeds.
Uwa and Tina's lives have been cut short because we've raised and enabled a generation of men who believe women should be exploited not protected.
We've enabled powerdrunk senseless men with uniforms and weapons.
We are not allowed to sit down there and say "not all men" fuck that! All men are responsible. Your brother's heart is desperately wicked and you have enabled it, wether in catcalling or in objectification. We have enabled it. Not waiting on the government to do anything, don't want to set myself up for further disappointment.
I pray we raise better sons and enable better men."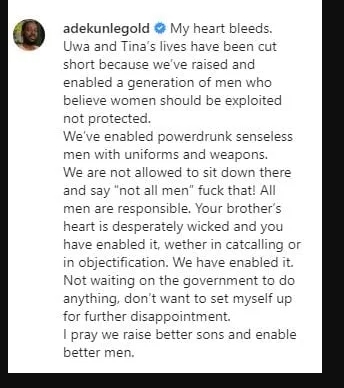 Read More
Sponsored LinksYou May LikeBig Data Online Courses Might Surprise YouBig Data Courses | Search AdsWork From Home Jobs in the USA May Pay More Than You ThinkOnline Jobs in USA | Search AdsOnline Degrees Might Be Cheaper Than You ThinkOnline Degree | Search AdsWork And Earn From Home42495Get Your Free bets And 130% Welcome Vouchers, Join The New Best Platform MSport And Win BigMSportHong Kong Serviced Apartments Might be Cheaper Than You ThinkHong Kong Apartments | Search AdsPrince Harry Explains Why His Sister Was Always A SecretNovelodgeWoman (28) Gives Birth To A Daughter – Then She Feels Something Strange And The Doctor Immediately Takes ActionMomLifeMattersby Taboola
Click HERE to follow us on INSTAGRAM
Click HERE to add us on Facebook
Click HERE to follow us on Twitter
Click HERE to add us on Facebook
Categories: Entertainment
No Responses Yet
Leave a Reply
Namehttps://s7.addthis.com/static/sh.f48a1a04fe8dbf021b4cda1d.html#rand=0.6173853384731327&iit=1591018218641&tmr=load%3D1591018217120%26core%3D1591018217550%26main%3D1591018218580%26ifr%3D1591018218666&cb=0&cdn=0&md=0&kw=&ab=-&dh=www.36ng.ng&dr=https%3A%2F%2Fwww.36ng.ng%2F&du=https%3A%2F%2Fwww.36ng.ng%2F2020%2F06%2F01%2Fmy-heart-bleeds-adekunle-gold-reacts-to-death-of-uniben-student%2F&href=https%3A%2F%2Fwww.36ng.ng%2F2020%2F06%2F01%2Fmy-heart-bleeds-adekunle-gold-reacts-to-death-of-uniben-student%2F&dt=%22My%20Heart%20Bleeds%22%20-%20Adekunle%20Gold%20Reacts%20To%20Death%20of%20UNIBEN%20Student%20%7C%2036NG&dbg=0&cap=tc%3D0%26ab%3D0&inst=1&jsl=1&prod=undefined&lng=en&ogt=&pc=men&pub=ra-55ea1de86396be70&ssl=1&sid=5ed502e96dd08114&srf=0.01&ver=300&xck=0&xtr=0&og=&csi=undefined&rev=v8.28.5-wp&ct=1&xld=1&xd=1
About
36NG is an all-encompassing Nigerian entertainment news site that provides a platform for an active, multicultural Nigerian audience to consume and interact with compelling content and unique digital experiences.
Proudly powered by 36NG